Blu, Ebi Me and Logan went to the Butterfly shop in a little mall just off Wellington Road. When we'd got the butterflies Blu went off shopping elsewhere but Ebi, Me and Logan went on a little road trip…
Logan flagged down a yellow cab and hopped in, only to find that it was driverless. So we clambered into the front seat and took the wheel while Ebi strapped himself carefully into the back seat.
We abandoned the cab at the first rest stop because the GPS kept asking "are we there yet?" When we got out of the car, the autopilot asked for a tip. "Dammit!" I told him, "Logan was driving, you should bladdy tip her." But he just drove off.
The Kuik Services is an odd place.
They keep the men and women separate.
They are very proud of their ancient Japanese gate-thing monument.
The have hammocks for people to sleep in.
They serve beer
…and scampi and chips in a basket.
We tried not to think about the sheep.
We left the Rest Area a little later by bus, with Logan at the wheel again.
I appear to have my eyes closed in this photo which might mean that there was something terrifying about to happen. But if you look in the back ground, Ebi doesn't look too scared so perhaps I was just stifling a sneeze or something.
Here's a shot from the back of the bus. Enlarge the image and check out the commercials (-:
And here's the bus drivers view as we cross the bridge.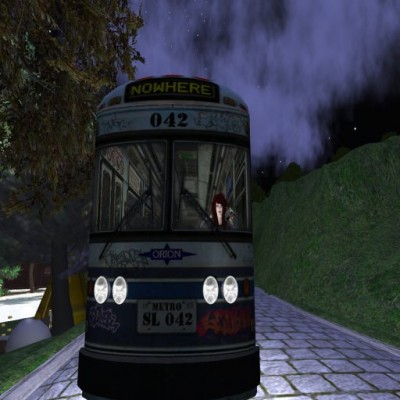 We drove for hours, all through the night even.
But shortly after dawn Logan succumbed to driver fatigue…
and lunched the bus on a straight and quiet stretch of road.
Ebi flies in to try to help, but it's no good.
Bus Bad.
GAME OVER PLAYER 2