Nobody actually knows how old Cazaluff is, we think it's not as old as Logan but probably too big a number to be stored in an integer in many programming languages. Apparently she was rezzed in RL on 1st March but that's a Monday this year and Cazaluff would be in school so we had the party on the Saturday before instead. You're probably wondering why, if Cazaluff is so old, she will be in school on her birthday, unless of course she's the teacher. I'm not sure I understand it either, but she's definitely not the teacher, I've seen her in her uniform.
So anyway, it all started like this. Logan and I Gimped up a party invite…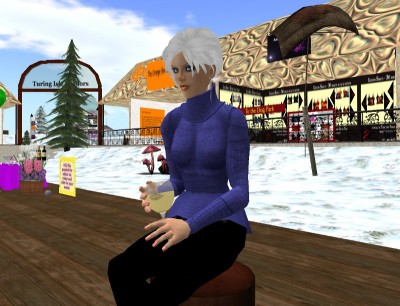 and then Logan and Blu called up Blu Heron for catering, decorating and instigating…
and Blu called up Tone to come and play the Blues.
So, come the morning of the party (or the evening depending on where you live), Cazaluff and Logan are in the Dog Park hanging out and helping the visitors and Blu and Blu are in the courtyard getting prepared. Logan has already blown their cover in a careless IM, but Cazaluff is blissfully unaware…
Tone sends out a Group Announcement inviting all his fans to come to Cazaluff's party and Cazaluff is still unaware (-:
Finally Logan puts out a call on the Tannoy and Cazaluff comes down to the courtyard to see what all the fuss is about. I don't know what "Blimey!" is in Viking, but we think she probably said it.
But it doesn't take her long to get her bearings and soon she's rockin' out in front of the stage.
Not long after that the party is in full swing and people are coming in from all over to congratulate Cazaluff and dance to the blues.
Blu and Rico rockin'…
Deborah Harry Jola Catnap cruisin'…
…and Dad groovin'.
It was around this time that the Miller Phone rang. It was John Travolta. He said he was making Night Fever 2010 and wanted to know if Dad would be in it. I took his number and said I'd call him back …maybe.
Doolittle's dog's eye view of the dance floor.
You can see a lot of our old mates here, Niju Zarco, Stormy Moonlight, Safra Nitely, Ishtar Roux, Roe Woodford, Benno Denimore, Love Kawaguichi, Joachim Sicling, FaithHopeLove Destiny.
Not only is Tone a Master of the Telecaster, he's a Dobro Pro too.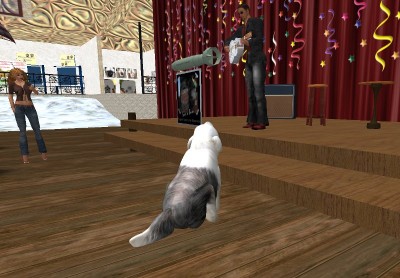 Doolittle: Give me weed, whites and wine!
Celestria Henly: Blimey!
Doolittle: and I'll be Willing…
Yep, Lowell George was da man for sure.
After a bit of yelling from me, out came the stratocaster and Tone said, "I'm gonna play this song for Miller… "
Shake Your Money Maker! – Hoooooooooo!
I thought it was all over after that, but no, Tone kept right on playing. Here's a drunk's eye view for those of you that were a little the worse for wear.
From left to right, those left standing at the end were: Blu Heron, Keiichi Ichtama, Celestria Henly, Tone Uriza, Diddi Cazalet, Sandry Logan, Paula Chunes, Blu Sparkle, Tanya Matahari, Solcar Amat.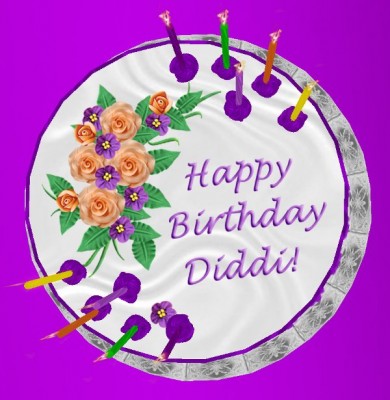 Happy Birthday Cazaluff!!!
…..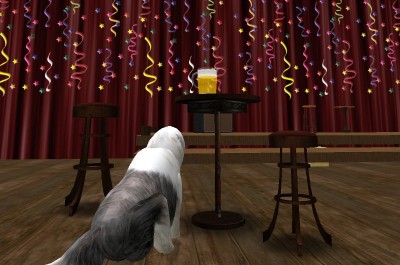 Later on when Cazaluff was opening her presents, we spotted Doolittle trying out his telekinesis skills on a left over glass of beer. As far as we know, he still needs more practice.
…..
So… if you don't know any girls that live upon hills and you need an introduction to one, or maybe to her sister… call Tone Uriza. He knows all of them.
Leastways, go see him play. He's the greatest (-:
http://www.tonystorpedoes.com/calendar.htm
————————————————————