You know that place that I said I wasn't allowed to talk about and take pictures of? (Not the one with the dancing girls and the poles, the other one, you know… the secret one?) Well, now it is not a secret.
.
First came the announcement from Enrico…
…me and Logan then made another one for the people on Turing Isle in the Dog Park so they would know to come too. (Actually we made that one just because we can. Logan likes sending messages to the estate and she likes hollering. Simple pleasures, eh?)
So then you press OK and you go out through the Vavoom! store and get onto the bridge, and go slowly so that you don't fall into the water between the sims.
and oh… who's this? It's Dad wandering around aimlessly. He looks like a bloody tourist.
Meanwhile up in the new Plaza…
Rico is waiting for the people to come and looking apprehensive…
…Blu is busy making a few last minute adjustments…
and on the little deck by the waterside, the gulls are waiting for someone to come and feed them. But, it won't be me I can tell you, the last time I got near the gulls, one of them stole my chips. I'm not having that happen again, chips I can bear but I don't wanna lose a Frankenbabyburger to them. They just gobble up anything in sight, so they wouldn't appreciate good quality fare like that.
Anyway, this place rocks, Blu has been working on it for months. Just look at this…
…you walk off down the little paths and there is cool stuff everywhere to look at and visit…
…like the coffee house…
…then you walk somewhere else…
…and find something new…
…and again…
…perhaps to the Chapel…
……or maybe to the marina…
…when you come back…
…try not to frighten the deer.
If you are a small furry avatar, you might want to stay away from the eeyrie…
…and if you have food, keep an eye on the gulls because they have one on you…
…don't forget to check out the lighthouse…
…can you tell that I like taking pictures of this..?
…and the shipwreck of course…
…there are lots of other great views…
…and little islands with little animals…
…and boys and girls buoys and gulls…
…and this strange creature that looks like a DA…
…back up in the main part of the island, you can visit the workshop from the VKC Film, if you pace up and down long enough, perhaps you can invent something cool too…
…there are also some new buildings…
…this one is the Veterinary…
…I tried it out with Logan…
"Miller: update Logan
Veterinary: Logan tags
Veterinary:: Miller, logan did not respond.
Please put your dog within 10 meters of me and repeat the command (make sure you spell the name right too).
If your dog is completely unresponsive, you will have to delete it and claim it as lost."
Rico, are you sure this is working properly? I think it is broken. You want me to have a look at it?
…and this is the Lost And Found……if you lose your dog, Victoria will give it back to you… She doesn't like me very much, in fact she doesn't like me at all and she won't talk to me. Perhaps it is because Dad keeps trying to chat her up and she doesn't want to end up being my new Mum. Or maybe she's been talking to that Veterinary bloke, 'cos he doesn't seem too partial to me either…
…but I let her have her photo taken with me anyway. You can see she was pleased, normally she looks a lot more grumpy than this…
…there is also a place where you can borrow a canoe. From left to right: Diddi, Rico, Logan, me, Blu, Dad and Ebi…
…we all had a race around the Isle of Dogs. It was a bit mad at the start and Dad and Ebi rammed me and Logan and I nearly got a soaking, whilst Diddi and Rico paddled off in the lead. We caught them up later but lost the lead to Blu further on. Eventually we came in last. It was Logan's fault, I couldn't make her keep a proper rythm.
Well, you're probably wondering who was at the opening, right? Well, there were all the faithful dog park people. You saw Blu and Enrico earlier…
…Ebi Ebi was there…
…as was Rosanna Himmel…
…Diddi Cazaluff was not all there…
…and nor was Dad. But then again, he rarely is, but he did find his way off the bridge (eventually).
So shortly after the notice was sent the visitors started to arrive…
…one of the first to arrive was some bloke that looked like a big cat. He didn't stay very long once he caught a whiff of all the dogs…
…soon after him came FaithLoveHope Destiny…
…here is Faith checking out the new Veterinary. I hope you have more luck than me Faith, Logan is still broken…
…then came Elden Davies…
…Rene2008 Zanzibar…
…and the spectacular Daiwolf Faust/ (I wonder if he is a distant relation to me?)
Later on came the very reckless Milano Zepp who just wandered around purring and rubbing up against the dogs…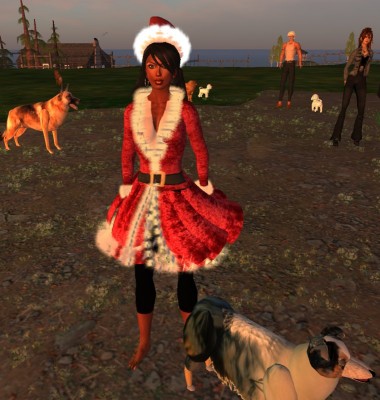 …then there was the still-festive Missy0934 Palen…
…and Rosanna's friend Zeke Yoshikawa who also good mates with Jabberwocky.
When I panned around with the Millercam, I also spotted…
…Janurary Darkstone …
…Georgianna Black with Karma and James…
…and Otterax Avalanche…
Towards the end of the evening, (actually it was so late it was almost time to get up) we met Lina Lagos of Ballet Pixelle and Joel Savard
…who sometimes, I have to admit, bears a remarkable resemblance to my Great Auntie Mabel.
And finally, this… is me.
Miller Rocks
…